Traction control that knows what you're about to do.
The rapid development of rider aids has been the most obvious technical trend on two wheels in the last decade. In the early 2000s many considered viable traction control systems for bikes to be little more than a pipe dream, and ABS was something that only staid touring motorcycles used. Now both are vital elements of most high-performance models.
On top of that, we've gotten used to being spoon-fed assistance systems like wheelie control, engine-brake mitigation, and electronically adaptive suspension, all with multiple modes and settings creating a labyrinth of setup options.
But despite their rapid development these systems all share one common failing; they're reactive rather than proactive. In other words, there's nothing they can do to prevent or mitigate a loss of control until after you've reached the point where it's all going wrong. While many can perform near miracles when it comes to sorting out the problems caused when ambition outweighs talent, in the end they're still Band-Aids, not preventatives.
The All-Seeing Bike
That's where a new patent application from Kawasaki hopes to change things. The firm is looking at methods to increase the number of inputs that safety systems like ABS and traction control use, giving them a level of foresight as well as the ability to react to problems. If the idea works, the result could be a bike that automatically adjusts its settings in preparation for a corner before you've even started to brake or turn in, optimizing both safety and performance.
There are several ways it does this, but the main new elements are a camera, a laser sensor, a built-in satellite-navigation system, and an array of load sensors in the seat and footpegs. These work in harmony with existing sensors for throttle position, speed, lean angle, and brake force to feed a whole bank of onboard computers tasked with interpreting the information and adjusting the bike to suit.
The camera and laser sensors sit behind a transparent front section of bodywork in the nose, but each has its own job. The laser measures distance to vehicles ahead, while the camera is connected to an image-recognition system to monitor road markings, giving the ability to see curves as they approach.
That information, combined with maps built into the sat-nav, can then work out where corners are and how tight they might be before you've even started to brake for them.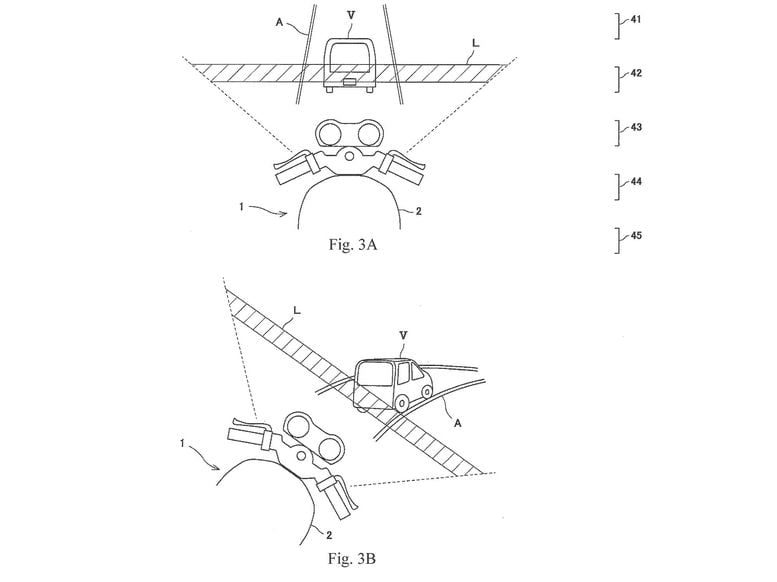 The Rider Posture Sensor
Load sensors in the seat and footpegs form a unit that the patent refers to as a "rider posture sensor." Their job is to measure how you're moving on the bike, which is another key indicator that a maneuver is about to happen. Most of us will shift our body weight prior to corners, and for Kawasaki's system that movement is another clue as to what's going to happen next.
Kawasaki has also added a "blinker sensor," which simply means it feeds information about whether you're indicating, and in which direction, to the computer; again, that's useful knowledge when used in parallel with the navigation system's maps.
All this data goes into several layers of computer modules. The initial ones include a bank angle calculator fed by the bike's inertial measurement system and a "rider posture calculator" fed by the seat and peg sensors. These, along with the blinker sensor, speed sensor, throttle position sensor, brake sensor, GPS, and navigation systems, are used to create data for the computer's "prediction section"—the part that decides what it thinks you're going to do next.
Having decoded all that data, the "prediction section" sends its decision to the "vehicle control section" of the bike's onboard computer. This also takes into account info from the laser and camera, as well as a "skill input device"—which is simply a switch that allows you to set your own level of ability; beginner, intermediate, or advanced—before sending commands to individual parts of the bike including the throttle valves, ignition, injection, and ABS.
Despite all the effort and technology going into this system, if it works as its inventors hope, you'll never even notice it's there. The result should be a bike that's simply always in the right mode, with ABS and traction control systems so subtle you'll barely even notice when they're operating.
Article Source: https://www.cycleworld.com/story/motorcycle-news/kawasaki-patents-corner-prediction-system/