Shenzhen Guangcai Trading wants FAKKU to stop selling its official merchandise

The best way to sum up ahegao without slapping this article with a TV-MA rating is to describe it as a specific expression used in manga made by (usually) women (aged 18+) in various states of ecstasy. These expressions are often used in image collages for various types of merchandise. Ahegao t-shirts and hoodies have become favorites of convention-goers looking to turn some heads–you know, back when conventions were a thing we could go to–and a whole lot of it uses unlicensed art stolen from the original artists. One company going against this trend, however, is FAKKU, who sell 100 percent official ahegao merchandise featuring collages of illustrations from artist Asanagi, known as @Victim_Girls on Twitter (NSFW).
Recently, a Chinese company called Shenzhen Guangcai Trading seriously complicated the licensing playing field by trademarking the word ahegao itself, using stolen artwork in hopes of promoting merch of its own and coming after FAKKU directly to stop them from selling their (again, completely legitimate) goods.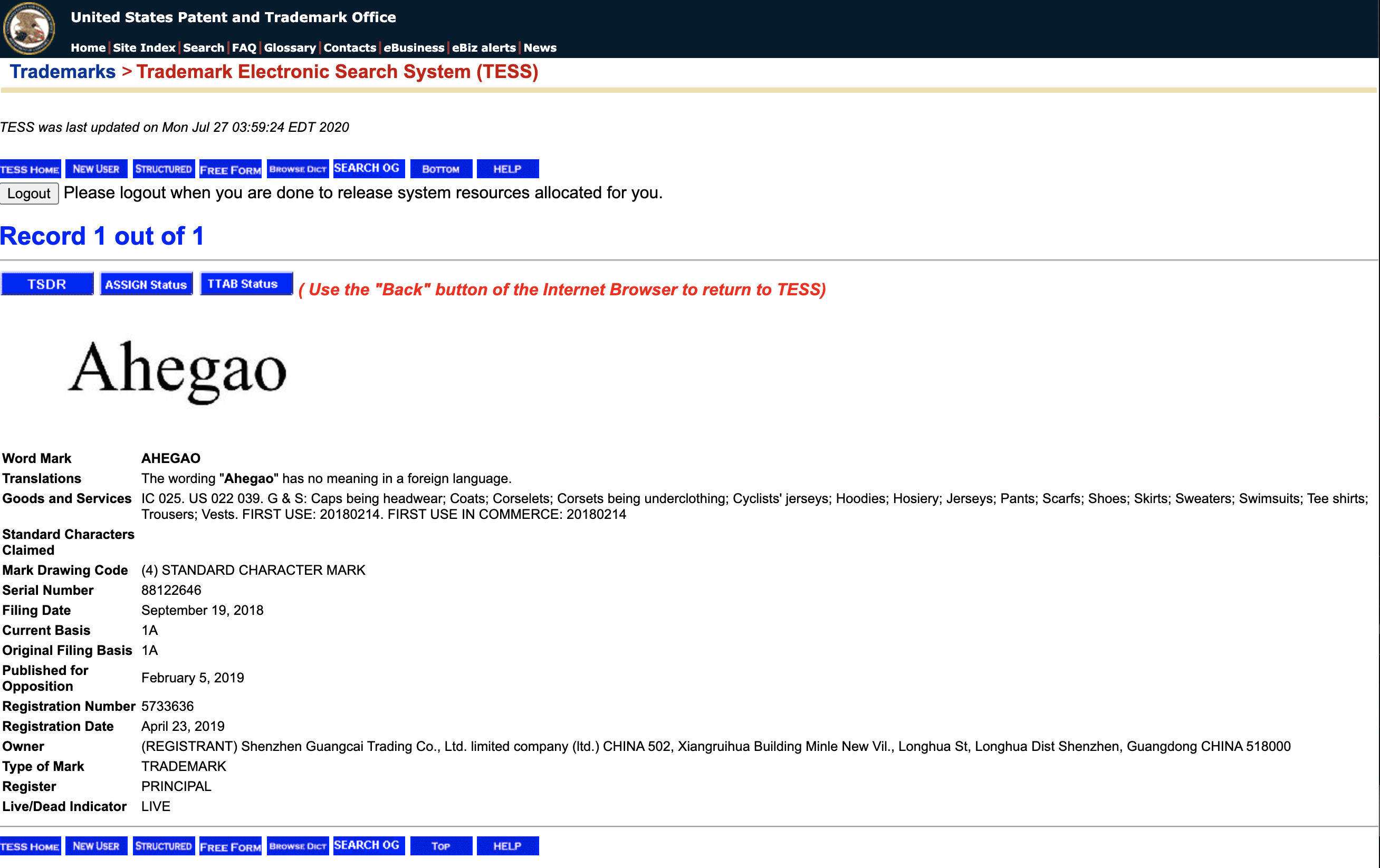 FAKKU founder Jacob Grady isn't taking this sitting down, though.
"If you search Amazon for ahegao, not a single item on there is legitimate; it's all using artwork without permission from the creator," Grady said in a comment to Crunchyroll News. "Shenzhen Guangcai Trading now has a trademark on the term ahegao, so they can prevent anyone from using that term in products, marketing, etc."
Grady's initial comment on the matter spread fast on Twitter:
While FAKKU is used to dealing with ahegao bootlegs, this is the first time another company has essentially treated FAKKU like the bootleggers themselves. This makes the already Herculean task of clearing out the bootlegs and paving the way for legitimate ahegao merch that much more difficult, setting FAKKU back a few unnecessary steps in the process.
"We try to convince people to purchase the legitimate product by making it better, rather than just blanket taking down bootlegs," Grady continued. "Our apparel is a bit more expensive but significantly higher quality, so we try to showcase that over making people feel bad about buying bootlegs."
As displayed in Grady's Twitter thread rebuttal, FAKKU doesn't just offer ahegao t-shirts. You'll also find button-downs like the one pictured at the top of the article, as well as gift wrap for that extra-spicy touch to your next birthday present. We heard you like ahegao, dog, so we put ahegao in your ahegao—and so on and so on.
As noted above, that instantly recognizable art comes from artist Asanagi, who collaborated with FAKKU on the merch. The next time you're looking for some ahegao merchandise, remember to consider buying from outlets that work directly with the artist!
Article Source: https://www.crunchyroll.com/anime-news/2020/07/28-1/fakku-fights-back-as-chinese-company-aims-to-trademark-ahegao